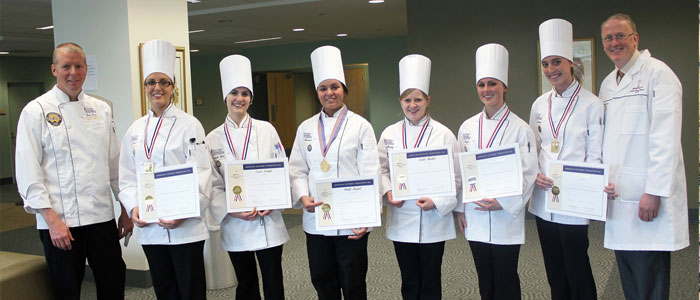 Why Choose an ACFEF Accredited Culinary School
The American Culinary Federation
The American Culinary Federation (ACF), established in 1929, is not only the largest professional chef's organization in North America, but they are also an educational leader based on promoting culinary excellence.
ACF Mission
The American Culinary Federation provides accredited educational programs, certifications, competitions and networking designed to enhance professional growth for all current and future chefs and pastry chefs.
Notable ACF Achievements
Because of an ACF initiative, in 1976 the United States Department of Labor upgraded its designation of chef from domestic to professional.
The ACF is the only certifier of U.S. master chefs and pastry chefs.
ACF Culinary Team USA is the official representation of the United States in major culinary competitions.
The ACF developed The American Culinary Federation Education Foundation (ACFEF) which awards exemplary culinary schools with national accreditation.
The American Culinary Federation Education Foundation (ACFEF)
On top of providing educational resources and career advancement opportunities to the existing culinary profession, ACF is also intent on nurturing the training of the future culinary world. Through its ACFEF accreditation program, only those culinary schools that meet a certain level of excellence are selected as being ACFEF accredited. On top of giving these special schools a seal of approval backed by a solid foundation of trust and reputation, the ACFEF also provides invaluable resources to the qualified culinary student such as apprenticeships, scholarships, and certifications.
Benefits of choosing an ACFEF Accredited Culinary School
ACFEF accreditation ensures that a school is meeting and/or exceeding specific established standards and competencies.
Schools are subject to vigorous standards, accreditation renewals, and site visits to become and to maintain accreditation.
Scholarships and apprenticeship opportunities are available to the qualified student through ACFEF accredited schools.
You can be confident in the overall quality of the education you will be receiving. Only the most current practices will be taught by excellent faculty and support staff.
An ACFEF school has credibility within the culinary arts world which will help you with job placement and career recognition in the future.
ACFEF offers continued education through certification, competition, and education resources which help maintain the competitive edge in your career years after your formal schooling ends.
Ready to take the next step? Find culinary schools near you today!